explore our history
Pendleton Heritage
A tradition of American craftsmanship started by one family over 100 years ago.
In 1863, traveling down the Atlantic seaboard, crossing the Isthmus of Panama on a burro, and sailing up the Pacific coast was a grueling four-month passage. Yet for Thomas Kay, a young English weaver, it was a dream come true. An old hand at sea voyages, he had already crossed the Atlantic years earlier to work at east coast textile mills. With skills honed, he headed to a region with ideal conditions for raising sheep and producing wool. A place with moderate weather and plentiful water - America's newest state, Oregon.
Kay helped organize Oregon's second woolen mill in Brownsville, where he oversaw the weaving operation. From the creation of Pendleton's first woolen mill in 1893, to establishing trade connections with America's Indigenous communities, Fannie helped build upon her father's legacy. As her father did for her, Fannie passed on the family tradition to her three sons in 1898. Less than a year later, a new wool finishing department was operational and the first finished wool products were traded, thus setting the foundation for Pendleton Woolen Mills. Today, the tradition of wool and textile innovation established by Thomas Kay and his family underlies all Pendleton products.
Pendleton brings over a century of fabric-making expertise to everything we do.
Pendleton is founded on an intimate knowledge of the wool business – from fiber to fabric. Whether it's a wool garment, wool fabric, or a wool blanket, Pendleton offers over 100 years of expertise, imagination and dedication to quality.
Pendleton is well known for a long-standing tailoring expertise, and for designing quality sportswear, outerwear and western wear in a wide range of styles and fabrications.With garment plants located throughout the world, the United States and in Pendleton facilities in Nebraska, all Pendleton apparel production requires pattern grading (the sizing of patterns) marker making (pattern layout), cutting, fusing, sewing and pressing.
Although traditionally labour intensive, today many of these processes are electronically controlled or assisted. This technology helps Pendleton gain efficiencies and produce consistent quality. The result is uniform sizing, long-lasting construction and attention to every detail.
As a world-leading, vertically integrated wool manufacturer, Pendleton uses sophisticated information systems to ensure a balanced flow of raw materials through production and on to finished products available at top retailers across the globe.
From farms and families we've worked with for generations.
Pendleton raw wool is processed before it is made into fabric, which is then constructed and woven into home and fashion products, as well as apparel and accessories for men and women. Our direct relationships with sheep farmers, and vertical manufacturing gives Pendleton the advantage of monitoring every step of the production process to maintain quality and value throughout at each stage of production.
Pendleton wool products begin to take shape during the planning process. The next step is the purchase of raw wool. Pendleton wool buyers shop world markets, but most of Pendleton's wool still comes from the United States. Variety, quality and quantity of wool fibers are essential to produce fine Pendleton woolens.
Next comes the production of fabric. Pendleton owns and operates weaving mills in Oregon and Washington.
While noted for apparel fabrics, Pendleton mills also produce a variety of fabrics for upholstery and home furnishings.Fabric production includes many steps: dyeing, carding, spinning, weaving and finishing. Pendleton's state-of-the-art dye technology features computer-controlled systems for water, dyes, heat and flow pressures, ensuring exact duplication of colors and material consistency. The carding process combs and aligns fibers in preparation for spinning. During spinning, strands of fibers are extended and twisted to form yarns. Then, high-speed looms interlace the yarns into woven cloth. Due to the unique felting property of wool, this woven cloth goes through a fulling process that uses controlled shrinkage to produce a softer, more compact fabric. The material also passes through other finishing procedures such as washing, shearing, pressing, napping and inspection before production is complete. Near the end of the production cycle, blanket fabrics are cut and finished as authentic Pendleton heirlooms.
Indigenous Trading Blanket History
Uniquely woven into Indigenous communities, Pendleton continues to partner with, and share traditional Indigenous design and artistry with the world.
Since 1909, Pendleton has produced Indigenous blankets, robes and shawls for Indigenous tribes. Today, Pendleton is deeply connected to the Native American population.
Since the early days, care has been taken by pattern designers to learn about the traditions, mythologies and design preferences of Indigenous customers. In the earliest years, Joe Rawnsley, who was considered a gifted talent on the jacquard loom, spent time with local tribes in northeastern Oregon to understand preferences of colour and design. He would then interpret the ideas gleaned from Indigenous peoples into blanket designs using modern technologies that could express patterns in much greater detail and in more vivid colourations than could be expressed by traditional weaving methods.
Prior to the introduction of mill techniques, traditional blankets were made from hides or pelts of smaller animals which had been sewn together or woven from wool, feathers, down, bark and cotton; and, in some areas, shredded cedar bark.
Eventually the durable nature of wool blankets led to their having great value in trade – and the brighter the better. While most early trading blankets were plaids and block designs, jacquard loomed blankets with brilliant colors and sharp details became very popular within the Indigenous community and integrated into everyday and ceremonial uses.
Navajo writer and artist Rain Parrish has documented the cultural significance of these branded prized possessions in various works. "We welcome our children with a small handmade quilt or a Pendleton blanket," writes Parrish in The Language of the Robe: American Indian Trade Blankets. "To honour [a couple's marriage], the woman's body is draped with a Pendleton shawl and the man's with a Pendleton robe."
Today, Pendleton blankets continue to play a significant role in Indigenous communities across North America.
The American Indian College Fund is an Indigenous-operated organization dedicated to education. Currently, more than 30 tribal colleges serve American Indigenous students from every geographic region in the United States. These institutions are beacons of hope for social and economic change in the communities they serve. The AICF fund provides educational opportunities for students and disburses 6,000 scholarships annually.
For a century, Pendleton Woolen Mills has maintained a mutual respect for America's Indigenous community, the company's original customers. A portion of the proceeds from American Indian College Fund blankets goes to help tribal colleges make a bigger impact. To learn more about the fund, call 1-800-776-3863 or visit www.collegefund.org.
Pendleton Threads of Time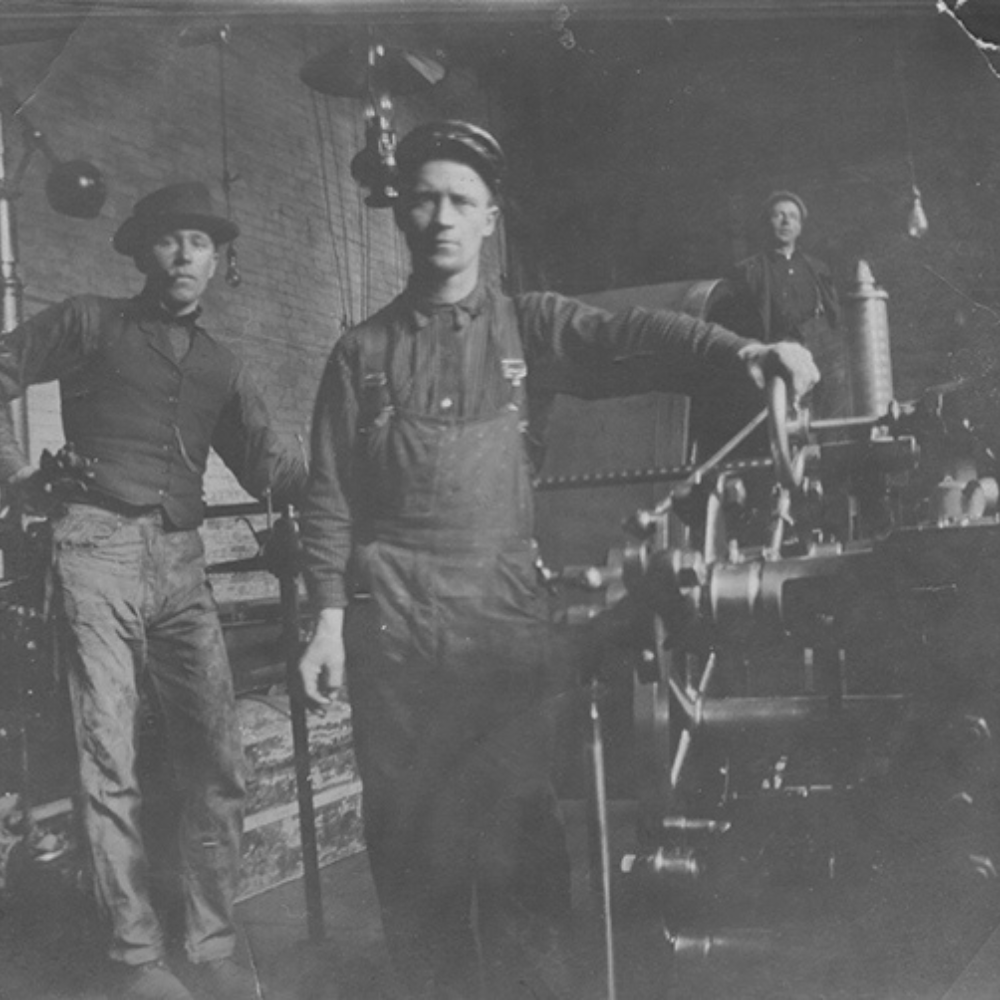 1863
Founder Thomas Kay, an English weaver, arrives in Oregon to help organize the state's second woolen mill in Brownsville
1876
Fannie, Thomas Kay's daughter, marries C. P. Bishop, a retailer by trade. The marriage creates a family of manufacturers and merchants, sowing the seeds for the development and growth of Pendleton Woolen Mills–one of America's premiere clothing manufacturers.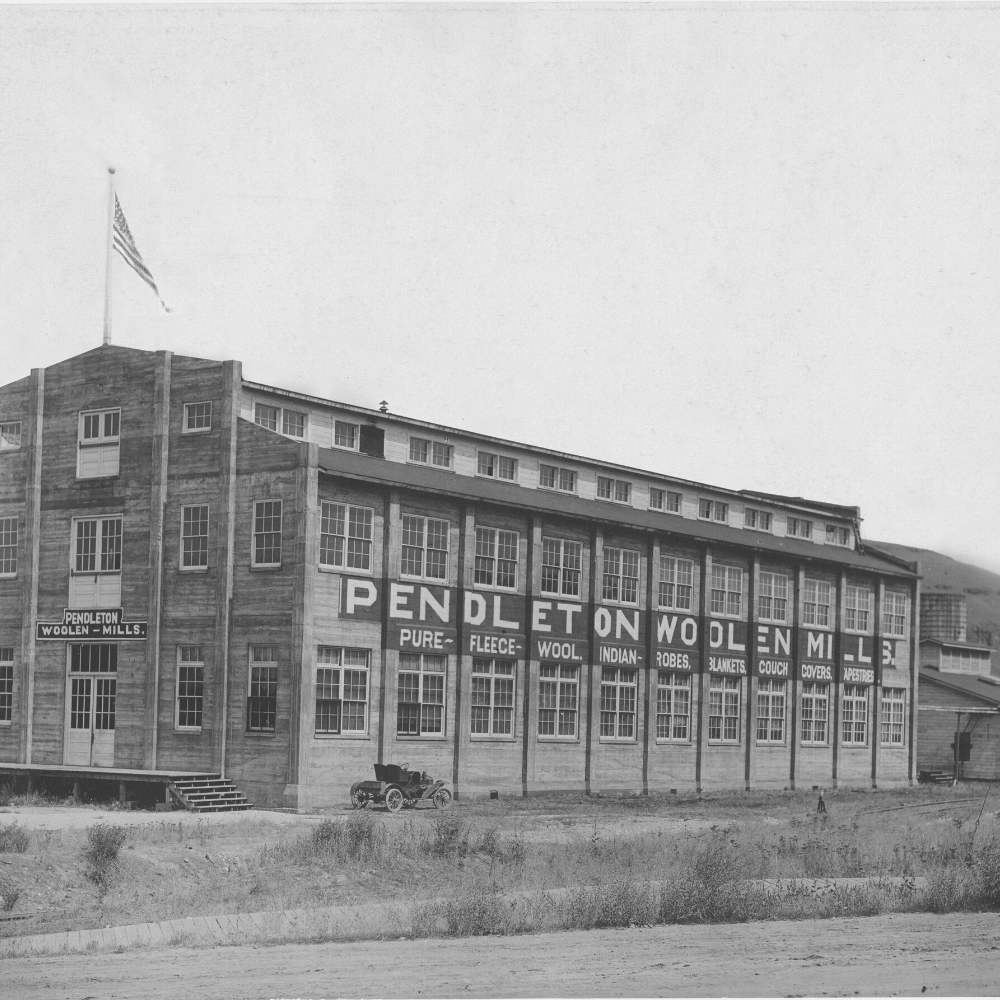 1889
Thomas Kay opens his own mill in Salem, Oregon, fulfilling a lifelong dream.
1909
The Bishop brothers (Kay's grandsons) purchase and update the idle Pendleton Woolen Mills and begin manufacturing vividly patterned Indigenous Trading Blanket.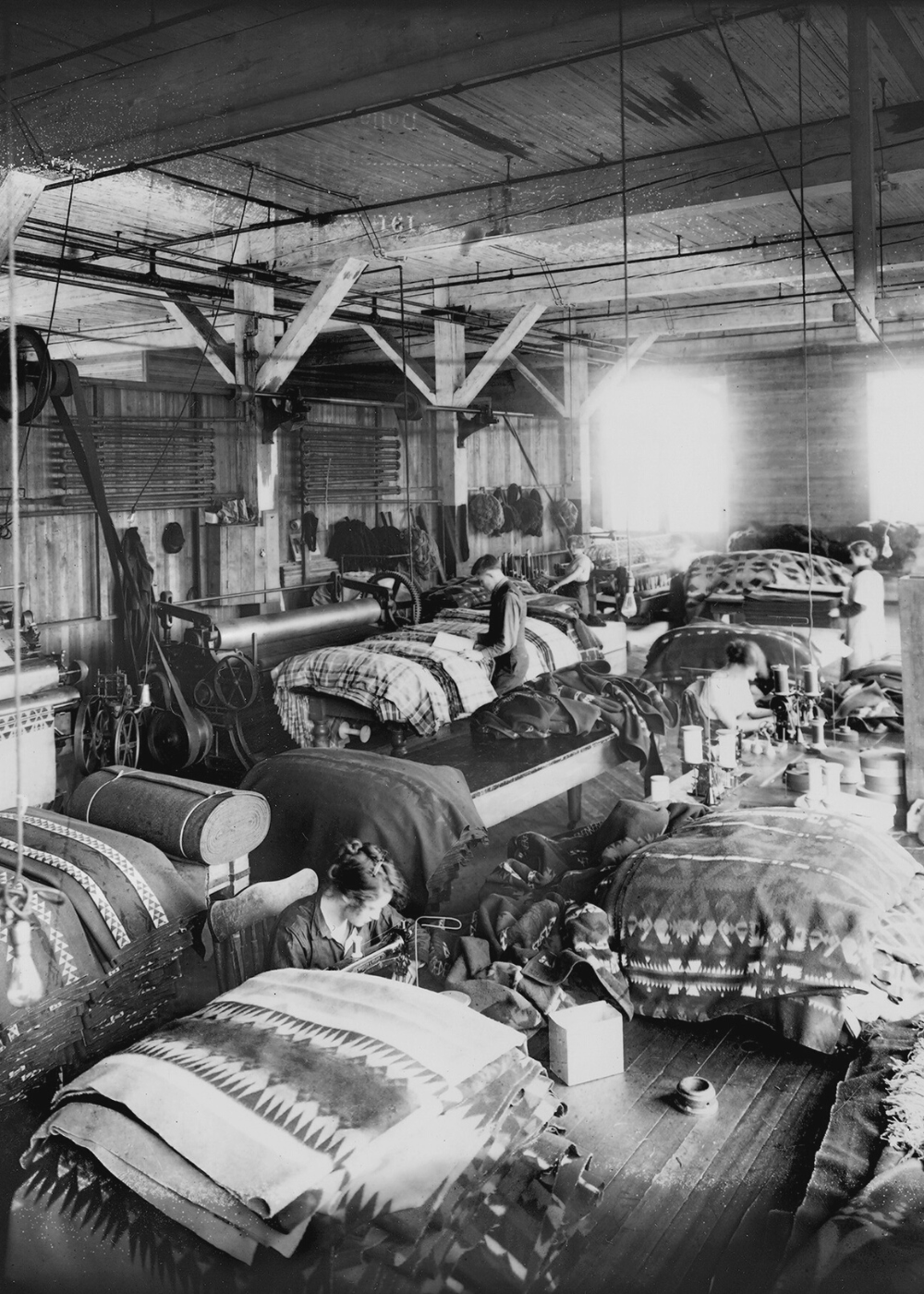 1912
The Bishop brothers purchase a second fabric mill in Washougal, Washington, and develop new, lighter wools to meet fashion trends.
1924
The legendary Pendleton virgin wool shirt is introduced in solid colors and colorful patterns.
1929
Pendleton begins offering a full line of men's apparel.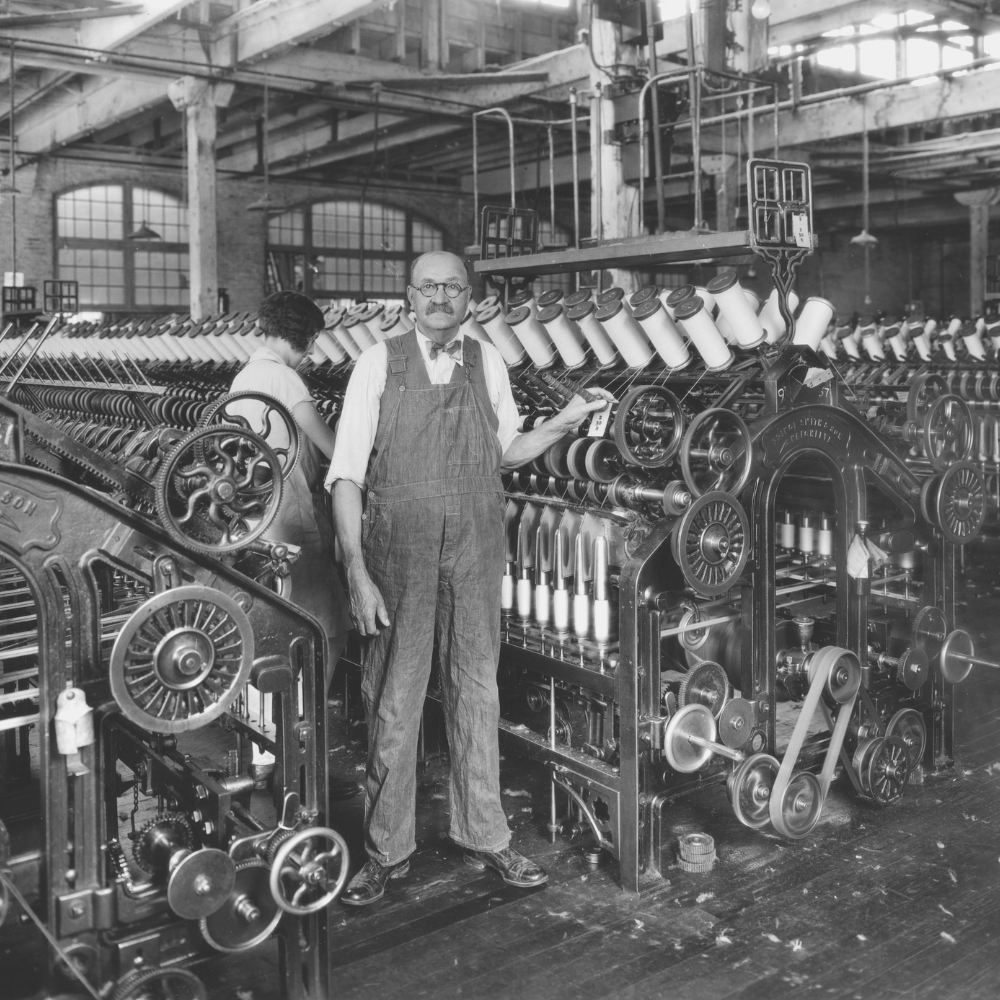 1949
Pendleton begins offering a full line of women's apparel.
1960
Pendleton introduces washable wool.
1999
A milestone year for Pendleton–celebrating 90 years for the legendary Pendleton blanket, 75 years for the men's wool shirt and 50 years for womenswear.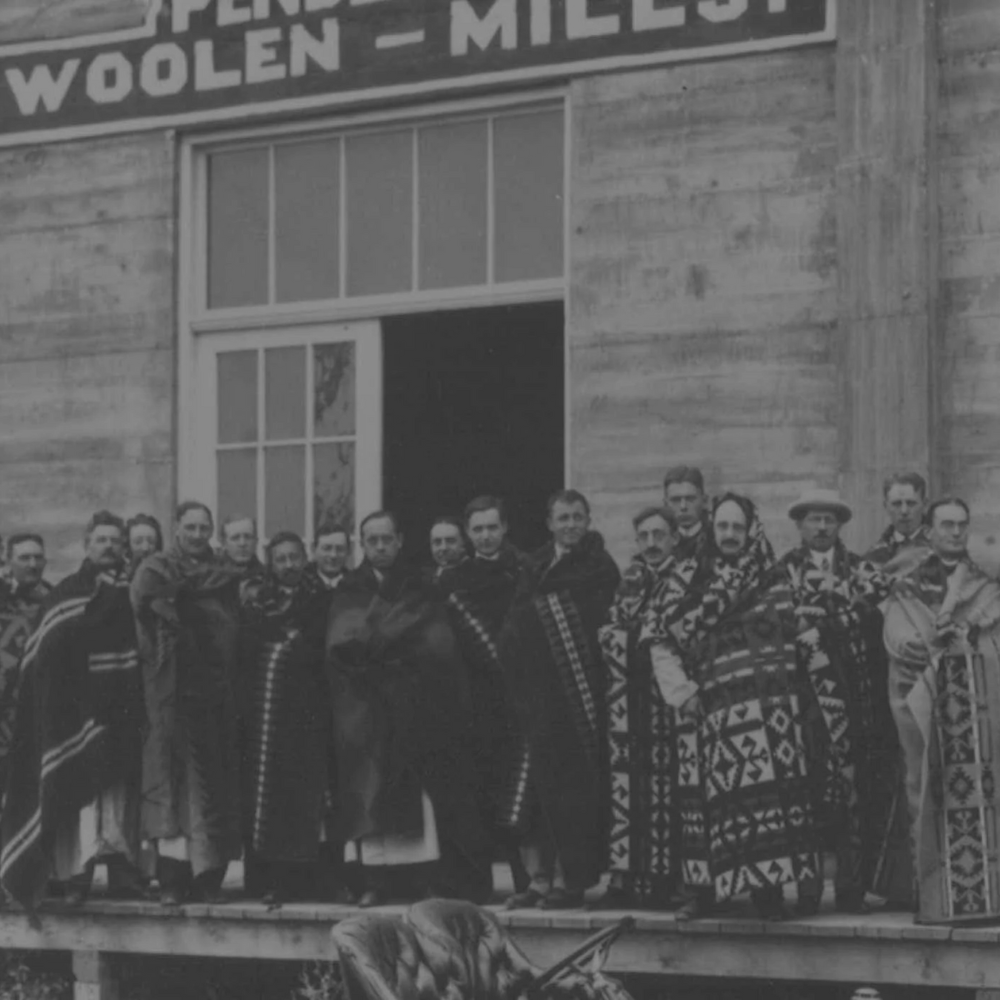 2017
Furthering its connections to the Indigenous community, we partnered with Manitobah Mukluks and Christi Belcourt, a celebrated Métis visual artist, to create a limited edition Pendleton blanket using their signature floral motifs.
2023
Pendleton products are proudly distributed in Canada by Ray Fine Enterprises.